Breast Pumps at MilkWorks
MilkWorks is a DME (durable medical equipment) provider for most private insurance plans (including Blue Cross Blue Shield and UnitedHealthcare) and for all Nebraska Medicaid plans. Your plan may cover a Personal Use Pump and/or a Medical Need (aka Hospital Grade) rental pump.
We have prepared a list of Questions to Ask Your Private Insurance Plan to help you determine what they cover.
---
Personal Use Pumps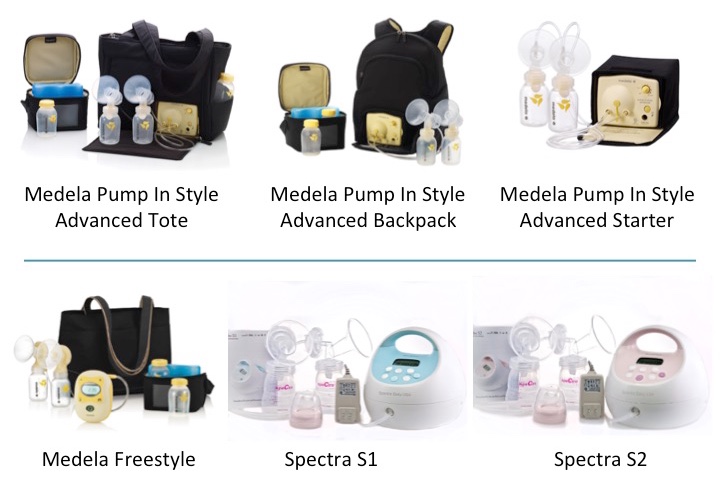 The Medela and Spectra pumps that we offer are high quality double electric Personal Use Pumps. They are designed for use when a mother is returning to work or school or is temporarily separated from her baby. We currently provide:
Medela Pump In Style Advanced (backpack and tote)
Medela Pump In Style Advanced Starter (available through insurance/Medicaid only)
Spectra (S1 and S2)
Spectra S9 (Omaha only)
Medela Freestyle
Medela Harmony manual pump (single-side)
Our Pump Service Plan is provided with all personal use pumps!
---
Rental Breast Pumps & Scales

The Medela Symphony is a Medical Need (aka Hospital Grade) rental pump designed especially for mothers whose babies are not feeding well. It is a very effective pump for initiating a milk supply or pumping exclusively when baby is not going to breast. The pump requires a personal pump kit. If you used a Symphony in the hospital and you have the kit, you do not need to purchase an additional kit.
MilkWorks is a rental station for the Medela Symphony Medical Need rental pump. Because of demand, the Symphony is subject to availability based on medical need and a mother's access to a pump. For more information on the difference between a Medical Need rental pump and a Personal Use Pump, see our Pump Card.
Baby Scales
MilkWorks is a rental station for the Medela Baby Weigh digital baby scale, a highly accurate hospital grade scale. Insurance plans generally do not cover the rental fee for a baby scale and availability is limited.
Rental Fees
Rental pumps and scales are available on a weekly or monthly basis. Pre-payment is required unless insurance coverage has been verified. Current rental fees are $25 a week or $78 a month for the Symphony Medical Need rental pump and the Baby Weigh scale. Monthly rentals renewed on or before the due date receive a $10 discount. The purchase price of a Symphony kit is $50.
Pumps and scales are available at both Lincoln and Omaha locations. You are welcome to call MilkWorks Lincoln at 402.423.6402 (extension 107) or MilkWorks O at 402.502.0617 for additional information, or see related information below.
---
Related information:
Español: