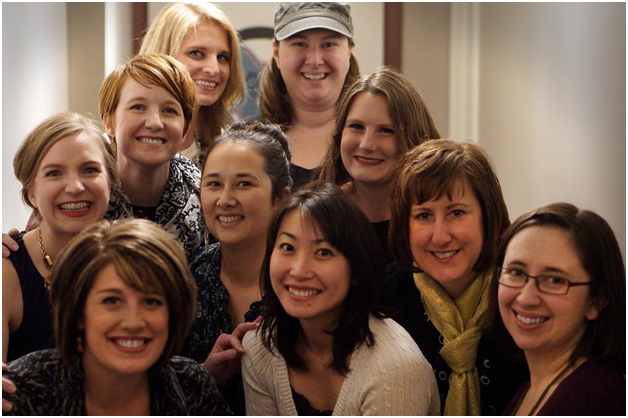 Mom Talk Friends for Life! Front row, left to right: Shannon Wilkinson, Azusa Ronhovde, Barbara Weiner Frost, and Melissa Hnosko. Second row, left to right: Suzanne Holzworth, Tracy Uecker Jamison, Joyce Dykema, and Karen Hupp. Back row: Jamie Garrison and Rachael Blaske.
Mothers have been supporting other mothers on their breastfeeding journeys throughout history. As our lives have become busier in the modern world, this support can be hard to find. A few organizations, such as La Leche League, have been built on the idea that mother-to-mother support is one of the most important ways to help moms initiate and continue breastfeeding.
Before MilkWorks even opened our doors in February of 2001, we understood that providing group support for moms would be an important part of what we do. Countless numbers of moms have found MilkWorks' Mom Talk groups to be one of the best part of their relationship with MilkWorks. I had the joy of leading many of these groups through the first few years of their existence and will always be grateful for the moms who came to support each other.
Mom Talk brought ten women together and bonded them for a lifetime as they shared their hopes, dreams and fears about new motherhood. Six years later, these moms continue to be great friends (and their children are buddies, too!). Several of them have shared their thoughts about the important role that Mom Talk and the women they met there have had an impact on their lives.
The ten moms gathered recently for a surprise farewell to Jamie, who is moving from Lincoln. Some of these moms shared their thoughts about the role that MilkWorks has had in their lives.
Rachael Blaske says that "MilkWorks wove a common thread through the fog of new motherhood. The need to feel belonging was met on those leather couches where we laughed, cried, nursed, listened and most of all, were listened to. We were no longer alone. With most of the kids about 6 months ahead of my little guy, they became mobile and began to phase out. I reached out to continue the group because I valued their input and advice so much that I didn't want to let go. I'm so lucky to have a group to walk through this state together. Being a mom is hard! I can't imagine doing it all alone!"
Joyce Dykema writes, "We all came to MilkWorks for support, advice, and camaraderie during the intense postpartum period adjusting to the birth of our first babies. We started bonding at MilkWorks Mom Talk. When our toddlers got too rowdy for the setting, we moved to playgroups, and as we added more babies, returned to work, and navigated elementary school, we've kept that trust and support that we found at MilkWorks."
From Jamie Garrison: "I moved to Lincoln not knowing anyone and was referred to MilkWorks by my doctor. Breastfeeding was very difficult and I was visiting Suzy at MilkWorks often! After a few months of her trying to get me to the support group, I finally went and it forever changed me! I met a group of women who have supported me and helped me through my most difficult times during motherhood! I would truly be lost without them! Now that I'm moving away I am confident that I have met lifelong friends and am forever grateful for MilkWorks!"
Shannon Wilkinson says, "I know exactly how lucky I am to have had these women in my life over the last six years. In 2008, I was a first-time mom and found comfort attending the MilkWorks group every week. Before I knew it, I had a built-in 24/7 support group with the friends I met there. Through feedings and teething and sleepless nights and first steps…from great celebration to moments of desperation, we have seen each other through it all. (And I mean all.) Being able to share this motherhood stuff? Well, it kind of knits our hearts together in a beautiful way."
Tracy Jamison adds, "'What can I get out of MomTalk that I don't get from a one-on-one session with an LC? Now I know: long-term support, love, laughter, fun, advice and understanding."
My neighbor, Suzanne Holzworth (mother of the cutest brother/sister combo in the neighborhood!) says, "There isn't much for me to ad that you don't already know, like that several of these girls literally nursed my baby when I was having my gallbladder removed! Talk about a lifeline! When I first started attending Mom Talk, I knew it was making a difference in my mothering and in my life but I didn't realize just how much until one day Bennett mentioned that he could tell if I had gone to the group that day or not. I didn't know how he could know if I haven't had a chance to tell him yet. "You are always happier on days you go to MilkWorks," he told me. Man, I mean, it surprised me to hear that from my husband , but of course he was right. Talking to those girls lifted my mood and reminded me that I had friends who cared. These girls were sharing my same joys and sorrows. We were becoming a team. So cliché, but it really does take a village. It did for me anyway…You know, some of the credit for the formation of our little group probably goes to Mary Anderson as well. She was always putting people together and telling someone, "Oh, you know who went through that same thing? She's right over there with the blue scarf. Sit over there." Total pro at connecting people who needed each other. A very cool skill."