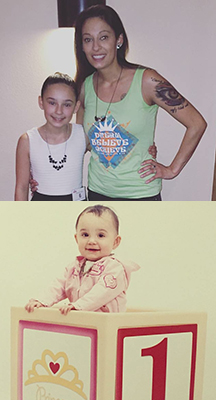 What did it feel like to be able to get help breastfeeding your daughter?
The lactation consultant at MilkWorks spent about an hour with me....helping my baby and me work together to get this figured out! After I got the hang of it, I remember feeling so relieved that we had it down. From then on, I feel like I was able to enjoy breastfeeding and bond with my baby.
Tell us about Alyssa now.
Alyssa is a Halloween baby and will be 11 this October. She is an amazing kid and is healthy as a horse! She loves to sing, do arts and crafts, and is a great big sister to Dahlia, who is seven. Alyssa wants to be a vet when she grows up, which I think it is a perfect fit for her because she loves school and learning comes natural for her.
How has breastfeeding impacted you as a mom?
Breastfeeding my daughters has made me proud. Proud to say I have done my best and will continue to do so for them. I love hearing moms say they breastfeed their kids. And I love hearing that pregnant moms say they are going to breastfeed. I like to make a big deal out of it and I let them know I think they are amazing!
(Note: Jade is fluent in Spanish and recently completed MilkWorks Community Breastfeeding Educator course. She will now be supporting other breastfeeding moms throughout our community.)