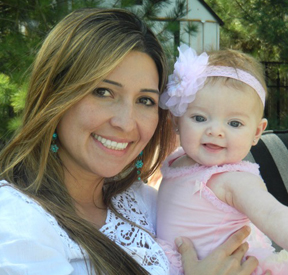 When did you first come to MilkWorks, Andrea?
I learned about MilkWorks from friends and family and I knew I wanted to go to MilkWorks even before my daughter, Luna, was born. I had trouble breastfeeding my first child, Koa, who was born in Florida. So I knew I would need all the support I could get with my second child. I went to MilkWorks for the first time within few days of Luna's arrival in 2009.
What kind of help did you receive from MilkWorks?
Luna was not latching on at first. Her mouth was so tiny, I remember feeding her with a syringe during the first couple of days. She was really sleepy and didn't show any interest in feeding. She was a picky eater from the start. When I went to MilkWorks for the first time I was frustrated and overwhelmed. My lactation consultant, Ann, took her time with me and helped Luna and I figure it out. It was not an easy process. When Luna finally latched on, she wasn't getting enough milk out. She started losing weight. Ann taught me how to pump and explained how many ounces I should feed Luna depending on her weight. We tried nipple shields in the beginning to see if that would make the breastfeeding process a little less painful and easier for both of us. It worked for a while and then I got mastitis. Ann didn't give up on me and she helped me through the process. In addition to Ann's amazing help I also had a consult with Dr. Leeper who explained to me that because of surgeries I had to my breasts as a child my ducts weren't flowing properly and it made it hard for Luna to get enough milk.
How else did MilkWorks help you with Luna?
I felt like I lived at Milkworks for the first four months of Luna's life. The moms' group helped me feel less alone. Sometimes people have the misconception that breastfeeding is easy and natural. I was born in Colombia, and this is especially true in my culture. Yes, it is natural, but it's not an easy process for every mother and baby. Attending moms' groups and talking to mothers that had similar issues helped me feel better about the overall experience.
I used the drop in weight checks before every consultation and afterwards to see how many ounces Luna was getting out. The results weren't always great but it was helpful for me to know how many ounces I should supplement with pumping milk. I even had a scale from MilkWorks at my house for a while.
What was hardest about breastfeeding for you?
The hardest part for me was the emotional part. I'm from Colombia and in our culture nobody talks about breastfeeding problems. Sore and bleeding nipples are part of the process. I remember my aunts telling me over the phone how sorry they felt that I was having trouble breastfeeding. It made me feel like I was doing something wrong.
Do you feel that MilkWorks made a difference in your breastfeeding experience?
I will forever be thankful to MilkWorks and Ann. They gave me all the support Luna and I needed while breastfeeding. They made me feel part of this big family. They understood my concerns and they did everything they could for Luna to be able to get breastmilk. I had a similar situation with my son when we lived in Florida. Unfortunately, I didn't find a support group there so I stopped breastfeeding earlier with him. Lincoln is blessed to have such a wonderful organization in town.
How did coming to MilkWorks help you support other breastfeeding moms?
I feel like I have more knowledge on the subject. When I go back to Colombia and my cousins tell me about their breastfeeding problems I make sure I share my experience.
How do you think that breastfeeding has impacted you as a mom?
Breastfeeding is a wonderful experience. It is a beautiful connection between baby and mother. I have a greater respect for breastfeeding mothers after what I have gone through.
What is Luna up to now?
Luna will be 7 years old in October. She's a healthy and happy child. She's creative, strong and fills our life with color and laughter. She enjoys gymnastics, soccer, piano, painting, baking and crafting. She has a special place in her heart for chocolate. Luna wants to be a fashion designer when she grows up which is not a surprise to us. I'm blessed to have such a wonderful daughter.