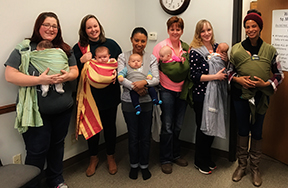 Meet Suzy and her Wednesday afternoon group of MilkBabies!
What is Suzy's Wednesday afternoon group?
MilkWorks Senior Lactation Consultant, Suzy Meyers, has been helping mothers feed their babies since we opened in 2001. For the past couple of years, on Wednesday afternoons, Suzy can be found hosting her group consult session.
Suzy, what happens in your group consult session?
I invite moms and babies that I have seen for individual consultations to join my Wednesday afternoon group as an alternative to additional follow-up appointments. It is exciting because the moms learn from, and support, each other. They may learn they are not the only mother who is having issues with breastfeeding. There are other moms out there who have to pump and bottle. Or other moms who do not make enough milk to feed their baby a full supply. We share information, babies get fed and weighed, and moms listen and ask questions of each other.
What moms do you invite to Wednesday afternoon?
Mostly they are moms who find that their learning curve is longer. Their issues don't resolve in the first couple of weeks. For some reason, they and their babies take longer to get where they are going. Some of the moms are very committed to breastfeeding, but they feel overwhelmed. I often have to convince them to come to group the first time. Many moms are hesitant to share their concerns with other moms, or breastfeed in a room full of other moms. Maybe their babies struggle to latch, or they use a supplemental nursing system, or they bottle feed.
How old are the babies in group?
I like having moms with young babies, as well as moms who have been coming to Wednesday afternoon for a while. It helps for a mom to hear that most babies get better at breastfeeding. It is also reassuring when a mom with an older baby will say, "Oh, yes, I remember triple feeding my baby. I don't need to do that anymore." Moms get very good at mentoring each other.
Why did you start this group?
It can be very hard for moms to acknowledge that breastfeeding is not easy for them, and that it may never be perfect. Not all moms make all the milk their baby needs. Not all babies have a great latch. My goal is to help each mom get to the point that she and her baby enjoy breastfeeding, no matter what breastfeeding might look like for the two of them.
Many people think that MilkWorks is all about making breastfeeding perfect. Our years of experience have taught us that we must be considerate and understanding. Not all moms and babies have perfect, easy breastfeeding relationships. In fact, many don't. Many breastfeeding issues will resolve. Some won't. We move past what doesn't work and find out what does work.
What do you like most about Wednesday group?
What makes me most happy, and what I love is how the women in the Wednesday group bond. They make friendships that last outside of MilkWorks. They realize it is not about being a perfect mom, but about supporting each other, raising their children together. They quickly learn that being a mother is not a lonely experience and that creating a village for themselves makes everything more enjoyable.
Does Omaha have a Wednesday afternoon group?
Yes, Anne Easterday, has just started a group at MilkWorks in Omaha. Anne and I have known each other for years. We both started as La Leche League Leaders.
Is there a charge to attend the Wednesday afternoon group?
Yes, there is a charge for up to three sessions, although we are often able to bill insurance, and we may be able to provide a reduced fee if a mom does not have insurance coverage.
Does MilkWorks have mothers' groups that anyone can attend?
Yes, both Lincoln and Omaha have wonderful drop-in groups two mornings a week that are open to all moms. In Lincoln our groups are led by Paula Velander and meet on Tuesday and Wednesday mornings from 10 to 11:30 am. In Omaha our groups are led by one of our breastfeeding educators on Monday and Wednesday mornings from 10 to 11:30 a.m.