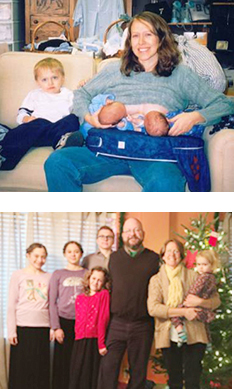 When did you first come to MilkWorks?
When our son, Sam, was born 16 years ago, at 35 weeks, we spent 10 days in St. Elizabeth's NICU. As you can imagine, we struggled with breastfeeding. We had help from lactation consultants, Ann Seacrest and Kaye Lidolph, during our stay. They both mentioned that a community breastfeeding center was in the works. We were fortunate and thankful to be educated about the benefits of breastfeeding by our doula, Marsha Dvorak, and our midwife, Joann Bronson. They connected me with La Leche League, and once Milkworks opened its doors, we attended your support groups.
Did you come to MW with more than one baby?
Three years later, my twin girls, Natalie and Jordan were born prematurely at 30 weeks. They spent two months in St. Elizabeth's NICU. My goal was to breastfeed and I pumped around the clock to provide milk for them while they were in the NICU. Even with their tiny size, one twin was able to nurse when she was two weeks old!
Breast-only for the twins would have to come later as my goal was to get their weight up and get them home. I was so determined to nurse through all the ups and downs we experienced. I even went dairy-free for a few months due to some digestion issues. It took perseverance! Once I got them to breastfeed, we continued for three years!
In 2008, Livia was born! Although full-term, nursing Livia had its challenges. I struggled with milk production and weight gain with her. Again, I consulted with MilkWorks to make sure her latch was right.
Another six years, and our Frankie was born. Again, I struggled with milk supply issues and latch. I spent many an appointment in tears trying to get her to breast. I triple fed her, and anyone who has done that knows how exhausting it can be! What was so frustrating is that while my milk production seemed to be an issue while pumping, once I got my babies to breast, milk supply was no longer an issue. So it was worth the work to get my babies to eventually latch well.
I so desperately just wanted the peace of nursing my babies.
What are all the services at MilkWorks that you used?
I spent a lot of time at MilkWorks over the last 16 years and used every one of your services: I worked with your lactation consultants, rented pumps and scales, purchased banked donor milk, weighed my babies, did pre- and post- feedings, and attended your moms' support groups.
How did getting breastfeeding help impact your ability to be a mom to your kids?
I was determined to breastfeed all my babies no matter what. Yes, there were plenty of times I wanted to give up. The postpartum exhaustion you experience when you bring another baby into the family was overwhelming. Sometimes we had to wait, but eventually we got them all to breastfeed, including the twins.
At one point, when I sought help with my twins, I brought three of my kiddos in to attend a moms' group. I feel I became a better mom because of my commitment to breastfeed all my children. Breastfeeding fosters connection with your babies. It is so much more than food! We had all our babies at breast, in the sling, and in our bed, which helped facilitate that.
How did getting breastfeeding support impact your ability to support other moms?
Hopefully I can give other mothers the courage to not give up. Look what I have gone through! It is the best gift you can give your baby!
You have breastfed five children over a period of 16 years. How do you think breastfeeding your younger children impacted your older children?
I don't think my children give much thought about breastfeeding. It is something they have always been exposed to. It is part of our family life. I still have a soon to be three-year-old nursling.
As an experienced breastfeeding mom, what would you say to a mom who is thinking about breastfeeding her first baby?
I encourage moms to line up support. I am so thankful to our doula, Marsha Dvorak, and our midwife, Joann Bronson, who educated and encouraged me.
What are those twins up to now?
The twins are now 13, and they are amazing girls. They are finishing their final year at St. Teresa School and will head to Pius High School in the fall. What an amazing journey it has been for all of us!