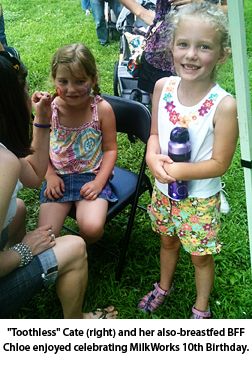 Guest Blog Post by Clover Frederick
Clover is a mom of two in Lincoln. She volunteers as co-chair of MilkWorks' Fundraising Committee.
Last week, my youngest child lost her two top front teeth. These were the same two teeth that brought me to MilkWorks when she was eight months old. She was learning how to use the teeth and my breasts were damaged because of it. Thanks to the ladies at MilkWorks and the wonders of "triple nipple cream", I was able to heal and continue to nurse Cate beyond the one-year goal I had set for myself.
Cate is 6 (and a half!) now. The birth of her big sister Ainsley, 8 years ago, brought me to MilkWorks for the first time. Her low weight gain at six months old had me back to Milkworks. Again, with their help, I reached my goal.
I didn't realize it at the time but when I went to MilkWorks for the first time, the organization itself was still in its infancy. Ten years later, MilkWorks is still going strong – just like those babies (who are now "big kids".)
I was honored to be a part of the planning of MilkWorks 10th Birthday Party held last Saturday at Prairie Hill Learning Center. As I greeted families, it was wonderful to see all the moms, dads, grandparents, babies and big kids who have been touched by the women of MilkWorks and the good work they do.
The casual celebration was a wonderful walk down memory lane for me and other moms. We reminisced about our experiences and what I discovered was that nursing my babies was my "marathon" experience. I doubt I'll ever run a marathon, but accomplishing my goal of nursing each of my babies for their first year was my marathon.
I am proud of it. And I couldn't have achieved it if it weren't for MilkWorks.