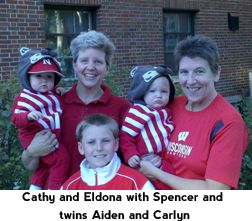 When MilkWorks opened in February of 2001, we all knew it was important to provide a way for moms to get together regularly, to support and encourage each other. We envisioned a group where moms could talk freely, bring their babies and just be themselves in a non-judgmental atmosphere. We wanted to provide a safe place where moms could breastfeed without having to worry about offending someone. We wanted moms to come regardless of whether or not they were having breastfeeding difficulties. We hoped it would become a place where moms who'd come in for consults could go to get support from others, beyond clinical care.
Eventually, the group became known as MomTalk. In the beginning, I led the group once a week and for at least a month, I sat on the couch and really got to know Cathy and her baby Spencer. Cathy was our first consult client at MilkWorks and she and Spencer taught me a lot about really listening to a new mom. Cathy's quiet confidence grew over time and as other moms started coming to MomTalk, Cathy welcomed them and gave them the support. This was exactly what we had hoped for! As each mom came to the group, perhaps she was initially seeking support for herself, perhaps she had urgent questions or problems. As the group facilitator, I provided resources and information and sometimes shared my own experience, especially since my daughter Nora was a nursling at the time and was my "demo model" in the group. Fortunately, she was an easy-going baby and, as an older nursling (she was nine months old when MilkWorks opened), she was eager to demonstrate her breastfeeding skills to Spencer and the other babies who came to MomTalk.
As time went on, Spencer and Cathy moved on to the next chapter in their lives and now Spencer has been joined by twin sisters By the time his sisters were born, Spencer and his family lived in Wisconsin so we didn't get the chance to have them come to MomTalk. But as a group facilitator, it was always a great joy to see a mom return to the group with her second or third baby, often just to enjoy the time with other moms and give back the support she'd received to other moms who were adjusting to new motherhood for the first time. The group has grown much larger, moved into The Gathering Space (we used to meet on the couch near the front door) and is much louder! We've even added a new group for moms with toddlers.
We have many ways we can find support now and many moms find support online. But MilkWorks is a welcoming place for moms and babies who find comfort in meeting face to face with other moms, who enjoy the spontaneity of sitting in a room with other moms who can encourage them with their own experience. When we see a "group regular" sit down next to a new mom and help her arrange her things, help her to feel comfortable in a new setting, introduce herself and make that mom-to-mom connection, we know we are on the right track by providing this support group.
Many of us find ourselves living far from family, or perhaps we have no family support for our desire to breastfeed. But there is a place where you can find that support at MilkWorks if you come to our MomTalk group! Getting support and help from other moms is one way to make your breastfeeding journey easier. MomTalk doesn't just focus on discussing breastfeeding. It is a group where anything related to parenting is open for discussion. You'll find there are often no right or wrong answers to your questions, but getting ideas from other moms about how to adapt to motherhood is what MomTalk is all about.