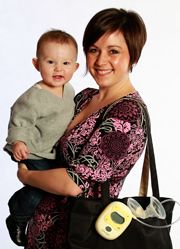 Please let your employer know about this upcoming presentation (and free lunch!) that is being offered at Ameritas on March 21st. It is a perfect way for businesses to learn how to comply with the newly amended Fair Labor Standards Act and support breastfeeding mothers in the work force.
The panel will feature two MilkWorks board members, attorney Adam Prochaska and Liz Ring-Carlson, a public affairs manager at State Farm who has returned-to-work and breastfed two babies (with a third on the way!).
Please help us spread the word about this event!
Thanks!
Ann, Executive Director, Milkworks
The Fair Labor Standards Act and Breastfeeding Mothers: What Employers Need to Know
The federal Fair Labor Standards Act was recently amended to address the needs of breastfeeding mothers in the work force. WorkWell, Southeast Nebraska's worksite wellness council, the Nebraska Department of Health and Human Services Division of Public Health, and the Women's Health Advisory Council are sponsoring an informational luncheon designed for employers to help them better understand the FLSA changes and how to support breastfeeding employees. There is no cost to attend.
All employers, business managers and human resource managers in Lancaster County are invited to attend the presentation on Wednesday, March 21st from
11:30 am – 1:00 pm at Ameritas, 5900 O Street.
A complimentary lunch will be served. Registration is required. Please call or email Jackie at (402) 441-6212 or JVaricak@lincoln.ne.gov.