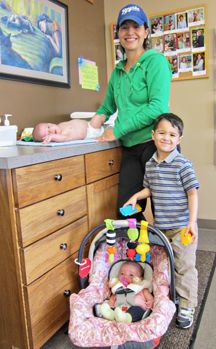 Meet Alana, her son, Isaiah, and her twins, Anna and Simeon, shown here at their weekly outing to MilkWorks. Anna and Simeon, who were born 2 months early, are now 3 months old. While Simeon is being undressed for his turn on the scale, Isaiah is alternately entertaining Anna, who is sucking on her pink pacifier, or playing with the toys in our waiting room.
When asked if he wanted his picture taken, Isaiah gave me a huge grin. It seemed like the perfect way to celebrate the twins three month birthday - a group photo at our baby weight station! Alana enjoys coming to MilkWorks to weigh the twins because she says "it helps her know they are gaining well." After a crazy day with twins, Alana said, "It is nice to know that something is going well and my hard work is paying off."
Happy Three Months to Anna and Simeon! Keep up the great work, Alana! You are doing a beautiful job!
P.S. Feel free to stop by any time that we are open to weigh your baby. We'll teach you how to use the scale and you are welcome to keep a weight record at MilkWorks if you want to. This is a complimentary service that MilkWorks provides to all families in our community. (When are we open? Monday - Friday 10am - 6pm; Saturday 10 am - 4 pm; Sunday noon - 4 pm)