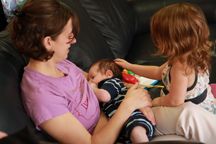 Many moms tell us that they are confused by the inconsistent breastfeeding advice they receive from well-meaning friends and healthcare providers. One person tells them to nurse on both breasts for 10 minutes each. Someone else says, "Oh, no, one breast only for as long as you want to!" The medication insert says, "Don't take if you are breastfeeding." But their doctor just wrote a prescription for the medication!!!
Since we opened our doors eleven years ago, our goal has been to give moms consistent, accurate breastfeeding information.
To do that, we have over 50 handouts on topics from milk supply to plugged ducts to collecting and storing pumped milk. Every two years, under the direction of Kathy Leeper, MD, a Fellow in the Academy of Breastfeeding Medicine, we review each of these handouts and make sure they reflect the most current research available. Our staff rely on these handouts when moms and dads call for advice. They are located on our website under Parent Information Center. Hard copies are also kept in a file next to the Drop In Weigh station in our waiting room. You can tell your breastfeeding friends, wherever they live, to check them out 24 hours a day, 7 days a week!
Anyone is welcome to use these handouts with breastfeeding moms. Please do not alter the handouts and please leave our copyright information on the bottom. We also ask that you discard any editions prior to 2012 as they may be out of date.