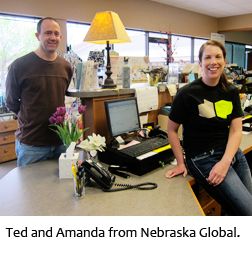 There are a lot of smiling faces at MilkWorks this week. Why? New computers that work well. Five words that are not familiar in that combination around MilkWorks.
Thanks to Nebraska Global, a software investment company, our dream has come true!
Nebraska Global is "forged on the belief that our community in Nebraska has all of the makings of being a vibrant and influential leader in the US, but too few of the impactful or focused efforts necessary to reach that potential." The company shares their resources by adopting non-profits and helping them with their technology needs.
This week Amanda and Ted arranged for new computers, installed them and helped us convert to the cloud. They are serving as our technology advisors and it is hard to describe how incredible it feels - like a burden lifted from our shoulders. We may know how to help babies latch, but when it comes to technology, we are overwhelmed.
Per Kaye, our Operations Director, Nebraska Global is to MilkWorks what we want to be for new moms overwhelmed with breastfeeding concerns - compassionate experts who want to make a difference.
Thank you Amanda and Ted and all of Nebraska Global!