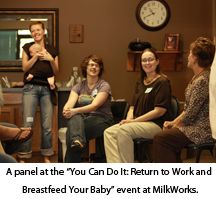 I recently facilitated a panel presentation at Ameritas sponsored by WorkWell, Southeast Nebraska's worksite wellness council. Funded by the Nebraska Department of Health and Human Services, the event was designed to help employers understand the amended Fair Labor Standards Act.
As of March, 2010, employers must provide private space and reasonable pump breaks for breastfeeding mothers in the work force. Over 65 representatives from Lincoln businesses attended the event. While a handful of employers have been supportive for years, there were many who have no formal policy in place. Their interest in complying with the law was exciting. It also made me realize how far we have come in providing support for breastfeeding moms.
About eight years ago, I was the guest speaker at a similar WorkWell presentation. I believe six or seven employers attended and I spoke to the "choir" – businesses that were already supportive. Around that time, MilkWorks started hosting yearly workshops for moms called "You Can Do It: Return to Work and Breastfeed Your Baby." However, my interest in breastfeeding in the work place goes back even further.
In 1979, long before my days as Executive Director at MilkWorks, my husband and I were attending school at the University of Iowa. Iowa City had just hired their first female firefighter, a woman by the name of Linda Eaton. Two years after she was hired, Eaton became a mother and requested that during her personal break time she be able to breastfeed her son, Ian. I was part of a group of women who helped Linda hire an attorney. Eaton won a civil rights case against Iowa City, but ended up losing her career. Claiming that harassment from her male co-workers (because of her decision to breastfeed) made it impossible for her to do her work, she filed for sex discrimination and quit the force. Eaton lost the sex discrimination suit in 1984 and never returned to being a firefighter.
Today, in 2012, mothers in the work force are seeing attitudes change. Assurity Life Insurance, who recently opened a beautiful, cutting edge office building in Antelope Valley, incorporated private pump spaces into their wellness-focused work site. Employers are realizing that mothers in the work force are very committed to their positions, but also very committed to their families. When employers make it easier for mothers to continue breastfeeding when they return to work, everyone wins. Kids benefit from the best nutrition and employers benefit from dedicated employees.
Back in 1979, the slogan on the buttons we sold to raise money for Linda Eaton, the Iowa City firefighter, read: Keep Ian Eaton Eatin'. I am pleased to report that due to the amended Fair Labor Standards Act and caring employers, many more babies are going to be "kept eating" when their moms return to the work place.
Watch the WorkWell panel presentation on 10Health featuring attorney Adam Prochaska, moms Liz Ring-Carlson, Carmen Bachle and Kerrie Saunders-Jones, and employers Sherri Wimes with Ameritas and Sarah Payne with TELCOR.
Visit milkworks.org: Breastfeeding: WorkSite Support for more information on the Fair Labor Standards Act and support for mothers in the work place.