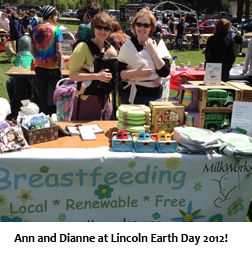 Local, renewable and free. There is no better fit for Earth Day than breastfeeding. It was a sunny, windy day at Antelope Park as Dianne and I chatted with pregnant moms, charming babies, shy children, breastfeeding moms, baby carrying dads, board members and friends. We showed off fashion forward reusable diapers and Green Toys, made from milk jugs (I really like the milk connection there!).
La Leche League, Nebraska Friends of Midwives, Circle Me, MilkWorks and Sycamore Family Resource Center were all together in one place. What a great community Lincoln is for families!
It was especially fun seeing babies all grown up, shyly grinning as their moms re-lived their memories of days spent at MilkWorks "when you were a baby." I loved hearing from second time moms that "I didn't need you guys this time around." Yeah! And, I was glad to tell pregnant moms "you have a place to come to for support."
Every drop of mother's milk that every baby drinks makes the earth a little bit greener.