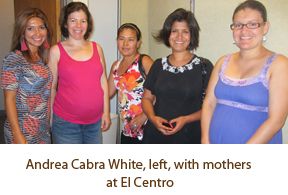 The act of breastfeeding a baby cuts across cultures and races and religions. It meanders across the ages, dating back to the first human born, and across geography, from continent to continent. There are few experiences throughout history, and in today's diverse world, that are as shared as a mother breastfeeding her baby. Andrea Cabra White, a member of MilkWorks Board of Directors, was born and raised in Colombia, South America. She now lives in Lincoln with her two children and her husband, a native Cornhusker. A talented artist, Andrea designs unique hair accessories under the brand Luna. She also has a special interest in helping Spanish American mothers breastfeed their babies.
Andrea and I recently spent time with a small group of mothers from Cuba and Mexico at El Centro, one of Lincoln's multi-cultural community centers. The stories they shared with us were very similar to ones we hear every day at MilkWorks. Sometimes breastfeeding is easy for a mom and baby. Sometimes it is hard. Support is vital. Mothers new to America are often raised in a breastfeeding culture back home, but may struggle in the United States. Free formula sends a mixed message. Language differences and a lack of transportation create additional barriers to seeking support.
MilkWorks has a grant from the Community Health Endowment of Lincoln that helps us to serve mothers and babies who receive care at People's Health Center on north 27 th Street. Many of the mothers are new to America and only speak Spanish. It is common for them to supplement with formula. In cultures where food and resources may be scarce, a chubby baby is a sign that a baby is well taken care of. The challenge is that supplementing when a mom has a good supply will often cause a decrease in milk as baby removes less milk because of being overly full.
Mothers from Central and South America tend to carry their babies in slings back home. I realized how important it is to interpret American customs when I encouraged a mother to hold her baby more often when he cried, rather than assume she did not have enough milk. She looked at me puzzled and said, "You mean I don't have to keep my baby in a car seat all the time?" Like all mothers, she had been told in the hospital that she could not leave without her baby in a car seat. She interpreted this to mean that her baby should be in a car seat all the time. It is amazing how good intentions can be misinterpreted!
MilkWorks is blessed with the ability to learn from many mothers from many countries and walks of life. One thing we know for sure is that all moms deserve a good support system and compassionate, knowledgeable providers. If their wise mothers and sisters are not here to provide it for them, MilkWorks is the next best thing. Thank you for letting us be part of your mothering. Muchas gracias, madres!