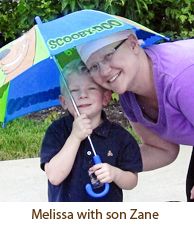 I am seeing pink ribbons everywhere as Lincoln prepares for breast cancer awareness events in the month of October. As a breastfeeding center, we are especially aware of the relationship between breastfeeding and breast cancer. Florence Williams, an investigative journalist, a new mother, and author of the book, Breasts, reports that breast cancer is the most common malignancy in women worldwide. The good news is that breastfeeding plays an important role in reducing breast cancer rates.
According to a meta analysis conducted by the Agency for Healthcare Research and Quality, there is substantial evidence that breastfeeding decreases a woman's risk of developing breast cancer. The disruption of certain hormones, specifically estrogen, works to protect a woman from breast cancer. The effect seems to be cumulative. The longer a woman breastfeeds, the less exposure she has.
Leave it to our bodies to be a bit more complicated than that.
Melissa Meyer, a local mom, is currently undergoing treatment for breast cancer which was detected after she weaned her son. According to the National Cancer Institute, a very small number of women will be diagnosed with breast cancer following a pregnancy. Some researchers believe this may be due to the effect of high levels of hormones on pre-existing microscopic cancers or the rapid growth of breast cells during pregnancy. Melissa explains that breastfeeding her son may have helped to save her life.
Thank you, Melissa, for sharing your story with us and serving as an inspiration for other women!
For more information on Melissa's journey with breast cancer, read her blog at www.melissa-godswarrior.blogspot.com" target="blank">www.melissa-godswarrior.blogspot.com.
For information on local breast cancer awareness events, visit Power of Pink and Making Strides.