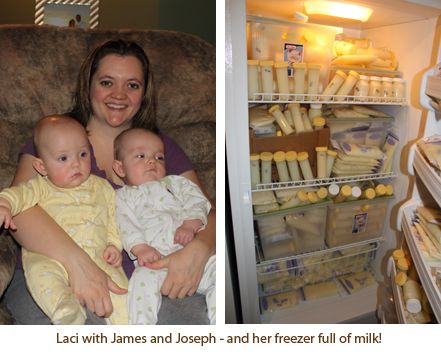 Twin Talk! A group just for moms who are breastfeeding multiples!twinsblog1
Meets the 1st and 3rd Thursday of the month at 10:30 a.m. Older children are welcome to attend. No fee to attend.
Laci was the experienced mother of two breastfed children when she found out she was expecting twins. Things got a bit more complicated when her new sons came early - at 31 weeks. Her life became centered around the NICU, where the boys lived for five weeks. Because the twins were premature, Laci initally pumped and James and Joseph received her milk through a feeding tube. When the boys were discharged at 36 weeks gestation, they were still not feeding well at the breast. Even though Laci was an experienced breastfeeding mom, this time it was a bit different.
Because her husband travels for work and Laci has two busy older children, she made the tough decision to continue exclusively pumping so her twins could benefit from her milk. Helping one baby who is struggling to learn to breastfeed after being in the NICU is a huge challenge. Helping two babies was overwhelming. Laci had to figure out a way to make breastfeeding work for her family. Even though it meant letting go of nursing the boys at the breast, Laci was determined that her sons would have the benefits of human milk, just like her older children.
Luckily, Laci is a great producer of breast milk. She has found the Symphony breast pump to be invaluable in keeping her supply up. Now at seven months old, James and Joseph have started on solids in addition to Laci's milk. Laci is down to pumping only three times a day – a huge tribute to the great milk supply that she has! She has enough frozen milk stored to feed the boys her milk until February when they turn one. However, because they were preemies, Laci wants to ensure that they have fresh milk through this year's RSV season.
(Why is fresh milk the best during cold and flu season? Moms produce antibodies to viruses they are exposed to and pass these protective factors on to their babies. So fresh milk will have the most "current" protection for your baby. This is especially helpful during cold and flu season.)
Join Laci and other twin moms on the 1st and 3rd Thursday of the month at MilkWorks to share tips on breastfeeding and raising multiples! If you are pregnant with twins, come learn from the pros!