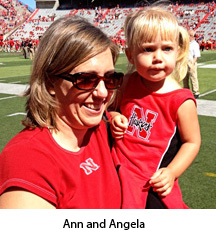 We love hearing from parents who feel as though we have made a difference for them.
annandangelablogEarlier this year we received an unusual request. Ann, a breastfeeding mom, returned to work when her daughter, Angela, was 3 months old. When her daughter weaned, Ann had a freezer full of pumped milk. Angela's care provider is licensed by the state and participates in the Nebraska Food Program. Because Angela was older than two years, the provider could not feed Angela her mother's milk because it was contrary to regulations, which require the feeding of 1% cow's milk. In order for her daughter to receive her milk, Ann had to submit signed documents and a diagnosis from her pediatrician indicating that Angela had a special medical or dietary need. Attorney Adam Prochaska, president of MilkWorks Board of Directors, helped Ann come up with a solution.
Dear MilkWorks,
I want to thank you for all of your help in regards to breast milk regulations. I found the information from Adam to be very helpful and I want to let you know that everything turned out for us.Our pediatrician worked with us to complete the forms and the state agreed it is okay to continue to use up my frozen breast milk. I really appreciate the services that MilkWorks offers for new mothers. We recently found out that we are expecting twins in May. We are very excited! I want to make sure that I will be able to make enough milk for twins so I know that I will be contacting MilkWorks.
Thanks again for everything-
Ann (and daughter Angela)
Our culture finds many ways to make it difficult for mothers to feed their babies their own milk. Luckily we have a village to help and moms who are willing to pave the way for other moms! Thanks, Ann and Angela!
For more detailed information on Ann's story, read Adam Prochaska's blog.