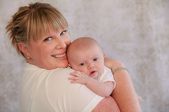 MilkWorks is proud to have five board certified lactation consultants (IBCLCs) on staff. Under the direction of Dr. Kathy Leeper, our breastfeeding medicine specialist, they work as a team to provide care based on the latest research and years of hands on experience.
Here's what Joanna writes: As a first-time mother of a 4-month-old, I have only now had a chance to reflect and think about thanking everyone for the excellent care I received at Milkworks, especially Michelle Jenkins RN. I won't go into the nitty gritty details of our problems initially, but as a nurse myself I always thought it was nice to receive a note of thanks, which is why I am writing.
Joanna and baby
Joanna and baby
I am choking up writing this email because breastfeeding my son Harrison has been such an incredible journey. As I quickly learned no journey is without its hills (or mountains) and valleys. I have never trained for a marathon but those early days of triple feeding sure felt like I was training for something amazing! And amazing it has been.....
I spent many days in March & April with Michelle. Her calm demeanor, gentle touch, extensive knowledge, & awesome personality was just what I needed and I think without her support I might've given up breastfeeding.
I had a lot of contact with the staff at Milkworks and found that everyone was so helpful.
I truly feel indebted to Milkworks! Please pass this on and if I can ever be of help please let me know. I tried to attend the support group on several occasions but it never worked with our schedule and before I knew it I was back to work!
Truly grateful,
Joanna Morgan MSN RN OCN