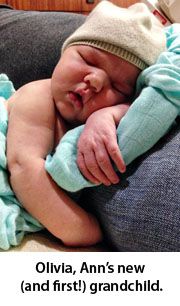 One of the perils of being a Lactation Consultant is that you feel as though breastfeeding is always difficult. Moms walk through our doors every day with babies who struggle to latch or remove milk, or with breasts that make too much or too little milk.
So when I encountered a mom at a restaurant who "lived" at MilkWorks with her first baby, and she told me that her second baby nursed like a champ right from the start, it warmed my heart. NOW she gets to experience breastfeeding in its glory!
In early March I witnessed firsthand the glory of breastfeeding with the birth of my first grandchild, Olivia.
After 24 hours of labor, Olivia was born by Cesarean. Within an hour, Olivia was skin to skin on her mother's chest. Her high pitched newborn squawks quickly quieted as she bobbed around and found her mother's breast. Olivia's parents then enjoyed a welcome calm at 3 am after two nights of no sleep during a long labor.
Many mothers, like Olivia's, give birth by Cesarean in today's world. Facing increased pain and fatigue and decreased mobility from abdominal surgery, we know their milk supply is often delayed. It can be harder to get breastfeeding going well with the extra medical disruptions and a longer hospital stay.
As these thoughts ran through my head, I watched Olivia's parents make breastfeeding happen. Despite nausea and a lack of sleep, Olivia's mother put her newborn to breast every time she made a peep. She let Olivia suckle to her heart's content, and both mom and dad held Olivia skin to skin with nary a whine or a complaint. I got to witness a mother "bear" and her side kick, my first born son, become great parents!
Around 24 hours of age, Olivia started to cluster feed and act fussy. I slept through a 2 am phone call to my hotel room, but her parents figured it out. A diaper change, a snug swaddle and another feeding.
Olivia had several things going for her. The hospital had board certified lactation consultants on staff who saw all the moms. Olivia was full term (40 weeks) and had no birth complications. She weighed over 8 pounds, was eager to nurse and appeared to be able to remove milk with no problems.
By day six, Miss Olivia was back to birth weight, feeding like a champ and well on her way to being an experienced breastfeeder. Olivia and her parents restored my faith in the breastfeeding process.
Many moms and babies need extra help in the early days and weeks. That's why lactation consultants are imperative in the hospital setting and why moms need to know how to get help quickly once they are home from the hospital. Research demonstrates that LCs make a difference. Making lactation care available to moms was a primary goal of MilkWorks when we opened our doors thirteen years ago. We also know that too few moms in rural Nebraska have access to this support. We are hoping that this will change very soon.
Thanks for the lesson and the reminder, Miss Olivia. You have mastered your first task in life: Keep calm and suckle on!