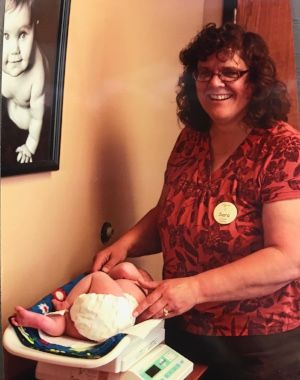 Sara Dodder Furr, a long time MilkWoman, passed away
in late December. Her loss will be felt deeply – not only by her family, but by her large extended community family in Lincoln and around the country. Sara's children summed up one of her most endearing legacies: she loved and accepted all of us unconditionally.
Unconditional acceptance and loss are part and parcel of life, which is especially true for women embarking upon motherhood. We have long known that mothers who feel loved and supported are better prepared to mother their children. I first met Sara one evening over 20 years ago when she called me seeking the services of a doula. My memories of our conversation centered around birth expectations and support. Sara knew in her heart that to care for her children, she needed to feel cared for herself.
When we medicalize the birthing process, we ignore that women supporting each other throughout motherhood preceded ultrasounds, IVs, fetal monitors and Cesareans. No one more than Sara, with a Masters in Social Psychology, understood the importance of support and unconditional acceptance. She showed it to mothers from all walks of life, in ways both big and small. It may have been a phone call, or a hot meal, or a car ride. Her serene sense of comfort somehow said it all to new mothers. "Yes, I will be okay. Yes, I can do this. Yes, someone cares about me. No, I do not have to be perfect."
In the words of Suzanne, a mother touched by Sara: Sara came over to my house in the dark of night to help me nurse my first born. She was my sweet, kind, funny neighbor and friend. She told me to call if I ever needed her and I took her up on that offer. My youngest was a colicky mess but he would always fall easily fast asleep listening to Sara's low calm voice, laying against her steady chest. This world will never be the same without her. Sara practically begged me to go to MilkWorks. There I met some of the best people I know. They are still my friends and support system over 9 years later. Sara made my world a brighter place. I hope I can pass on some of her sunshine.
Many mothers live through a loss, whether the loss of a pregnancy, a newborn, or their perfect birth or breastfeeding experience. Loss is hard on all of us. Loss is especially hard on a mother's children. Nat, Abby and Nora will carry Sara inside of them for the rest of their lives. They will treasure their memories. They will feel deep sadness at times. They will dig deep inside of themselves for strength when they most need it, because Sara planted it there.
Our community is a better place because Sara touched our lives. Her colleagues feel wiser. The mothers she nurtured feel stronger. So many babies have been loved unconditionally, because their mothers were loved by Sara.
While there is no way to adequately convey our appreciation for Sara's contributions to the world, MilkWorks has established a fund in memory of Sara that will provide baby carriers to mothers without the means to purchase a carrier. One of Sara's greatest joys was carrying her children close to her heart. She believed strongly that children learn to love by knowing they are safe and secure.
You may also support Sara's family with a donation to support her two younger children's education fund. Sara was smart and wise, and one of the first people I turned to for the latest research or analysis on any topic related to breastfeeding or parenting.
You were our sunshine, Sara, and you will live on in every one of us. Thank you from the bottom of our hearts.