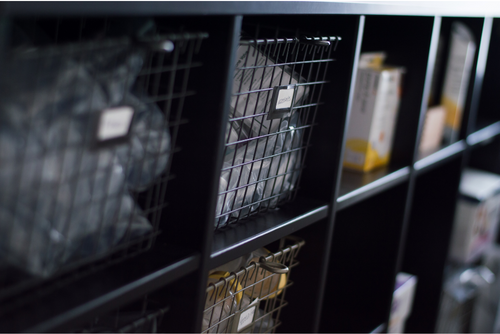 Job Title: Retail Manager
FLSA Status: Exempt
Reports To: Operations Director
JOB SUMMARY: Under the supervision of the Operations Director, the Retail Manager will be responsible for managing the day-to-day duties of the retail operation including inventory purchasing and management, facilitating vendor relationships and contracts, updating and maintaining the Point of Sale (POS) system, managing all aspects of the rental pump program including collections, researching, and purchasing new products, and merchandising both MilkWorks retail locations. The Retail Manager also has responsibility for meeting budget objectives.
Essential Duties and Responsibilities include the following as well as other duties and responsibilities that may be assigned:
Build and maintain Durable Medical Equipment (DME) inventory as well as contact relationships with DME vendors
Research new DME and retail products and evaluate their appeal to our customer base
Complete retail budget and reports accurately and aligned with accounting schedules
Assist the Operations Director with managing retail operation's profitability
Manage inventory levels and communicate with internal operations regarding day-to-day needs including an annual audit of inventory
Actively promote and foster good relations inter-departmentally, and with clinical team members, payers, and suppliers
Create and receive purchase orders
Set-up and maintain Point of Sale (POS) controls utilizing features such as minimum quantity alerts and other functions
Receive and verify shipments, update POS system when orders are received
Build and maintain a reporting system in order to monitor sales trends
Create and maintain discount program with approval from Operations Director
Merchandise retail space at both locations including seasonal displays in conjunction with each location's BE Lead
Work with marketing and leadership to promote DME inventory and sales as appropriate
Manage all aspect of rental pump program and maintain rental pump records for both locations
Ensure all necessary documentation is obtained as it relates to payer requirements, standard operating procedures, and compliance programs
Act as vendor liaison for rental accounts for ordering and returning rental units and sending accounts to collections
Respond to voicmails, phone, and emails promptly, typically within one business day
Other duties as assigned
General Responsibilities:
Maintain/copy/replace all administrative forms and paperwork
Perform all duties and responsibilities in a customer service, efficient, team-oriented manner
Establish and maintain effective channels of communication and a professional relationship with patients, clinical staff, co-workers, contractors, and outside facilities
Use office equipment and materials in a safe and acceptable manner, follow established safety procedures, use appropriate safeguards, and observe common sense rules of safety in all on-the job activities
Conducts self in manner reflecting the core values of the the company, and encourages others to do the same
Observes strict patient confidentiality in dealing with patients and patient information
Work from the assigned location with reliable and predictable attendance
Qualification Requirements:
To perform this job successfully, an individual must be able to perform each essential duty satisfactorily. Requirements listed below are representative of the knowledge, skill and/or ability required. Reasonable accommodations may be made to enable individuals with disabilities to perform the essential functions.
Experience:
High school diploma required
Two-year or four-year college degree in business administration or a related field preferred
Minimum of 3 years' office or related experience required •
One-plus years of Durable Medical Equipment experience in the medical field and/or a customer service-oriented environment preferred
Work experience in the non-profit sector preferred
Demonstrated track record of successfully working with vendors
Experience creating and executing database and development plans and materials.
Language Skills:
Ability to read and comprehend simple instructions, short correspondence, and memos. Ability to write simple correspondence. Ability to effectively present information in one-on-one and group situations.
Mathematical Skills:
Ability to add, subtract, multiply, and divide in all units of measure using whole numbers, common fractions, and decimals
Reasoning Ability:
Ability to apply common sense understanding to carry out detailed written or oral instructions. Ability to deal with problems involving a few concrete variables in standardized situations
Other Skills & Abilities:
Must be proficient in using technology and software applications
Must be well organized and possess excellent telephone communication skills
Must be detail oriented, conscientious, and able to follow through
Medical terminology or training preferred
Working knowledge of efficient filing systems, office machines and equipment
Must be able to adjust tasks in accordance with changing deadlines, emergency calls and priorities • Must be able to complete tasks and meet deadlines
Valid driver's license and automobile insurance required
Physical Demands: physical demands described here are representative of those that must be met by an employee to successfully perform the essential functions of this job. Reasonable accommodations may be made to enable individuals with disabilities to perform the essential functions.
While performing the duties of this job, the employee is regularly required to talk or hear.
Employee is regularly required to use hands and fingers for typing and filing. The employee is frequently required to reach with hands and arms and occasionally required to stand, walk, stoop, kneel, crouch or crawl.
Employee may lift up to 50lbs; stand and carry items that weigh 10 – 35lbs.
Specific vision abilities required by this job include close vision, distance vision, peripheral vision, depth perception, and the ability to adjust focus
Work Environment: work environment characteristics described here are representative of those an employee encounters while performing the essential functions of this job. Reasonable accommodations may be made to enable individuals with disabilities to perform the essential functions.
Noise level in the work environment is moderate
Stress level in the work environment is moderate to high
Travel: Minimal
---
Disclaimer
The above statements are intended to describe the general nature and level of work being performed by people assigned to this classification. They are not to be construed as an exhaustive list of all responsibilities, duties and skills required of personnel so classified. All personnel may be required to perform duties outside of their normal responsibilities from time to time, as needed.
Must be authorized to work in the United States.