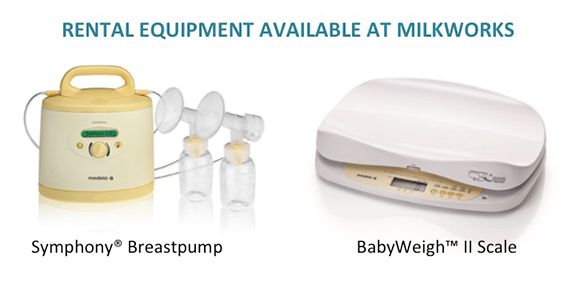 Medical Need Rental Pumps
The Medela Symphony is a medical need, multiuser rental pump designed especially for families with babies who are not feeding well. It is a closed system which prevents air or milk flow into the motor. The Symphony is a very effective pump for initiating a milk supply or pumping exclusively when baby is not going to breast.
The pump requires:
A one-time purchase of a personal pump kit. If you used a Symphony in the hospital and you have the kit, you do not need to purchase an additional kit.
A prescription from your health care provider - feel free to use our template. All information listed on the template is required.
Because of demand, the Symphony is subject to availability based upon medical need.
Insurance coverage is limited to babies with Medicaid insurance or mothers with Blue Cross Blue Shield insurance.
Rental pumps are available for rent by the week ($32) or the month ($107).
Baby Scales
MilkWorks is a rental station for the Medela Baby Weigh, a high-quality digital baby scale. Please call to check availability as our inventory of scales is limited.
Scales are available for rent by the week ($32) or the month ($107)