Meet Maritza, one of Lincoln's Culturally Diverse Community Breastfeeding Educators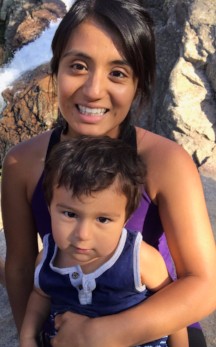 Where were you born?
I was born in Los Angeles, California, but I like to say I am a Nebraska girl since my family moved to Nebraska when I was 9 years old!

Tell us about your family!
I have a great supportive husband, Alex. He helped me through my breastfeeding journey and I am so thankful for him. I have a little boy, Augustine, who is two years old and so curious! We are always learning and doing things to grow as people and we want to be a blessing to those around us. I also have a childrens' clothing business and I give back for every purchase made.

Did the women in your family and community breastfeed their babies?
When I look back I remember some moms would cover themselves to breastfeed their babies and some would bottle feed. It appeared as something more private, so I didn't really see it a lot growing up.
 
What encouraged you to breastfeed?
My husband and I wanted a healthy and natural environment for our baby, so we decided to try to breastfeed. We took a class at MilkWorks to learn more about breastfeeding, which helped. Our mothers encouraged us with our decision, and shared their experiences with breastfeeding which gave me hope to breastfeed. If it wasn't for my husband, who patiently encouraged me, as well as MilkWorks, I would have given up.
Why are you so passionate about helping mothers to breastfeed their babies?
One of the many reasons I am passionate about helping other moms breastfeed is my experience of having a difficult start with my baby. Once I overcame the various challenges, I was so thankful I persisted as I have seen the benefits to breastfeeding firsthand. I am particularly drawn to helping Spanish speaking mothers, who have difficulty comminucating in English. My heart is drawn to help and encourage these mothers and it helps me connect with Hispanic culture.

What do you like about being a Community Breastfeeding Educator?
Being a Community Breastfeeding Educator, I get to know and work with a variety of women, not every mom is the same. It makes me happy to give a little hope and encouragement to that one mom who's struggling and to make them feel special and know that they are not alone in this.
Also, I enjoy growing and meeting throughout the year with very knowledgable women at MilkWorks who help encourage me as an educator in the community. My goal is to continue to be available to all mothers in our community.
 
What are the biggest challenges you feel mothers face when it comes to breastfeeding?
There are many different challenges that come with breastfeeding. Each mother has variety of success and difficulty, based on her individual circumstance. One of the biggest challenges I feel that moms face when it comes to breastfeeding today is not having a support system available. I feel a support system is very important to have in order to be succesful in breastfeeding. There are some women in our coumminty that do not know where to turn for help with breastfeeding challenges, I enjoy being able to be that support system and assist mothers in getting the help they need. 
Now a days moms plan to return to work following the birth of their baby. This often presents a new set of challenges for new mothers. As a Community Breastfeeding Educator, I am here to help moms and make their journey a little less stressful.